The desire to learn an instrument is timeless, and piano lessons are a great way to build a strong relationship to music on one of the most versatile instruments. The ways in which we teach piano will often change to reflect the times, employing modern methods and technology to appeal to a new generation of musicians. Now more than ever, students have a plethora of options for piano lessons and piano teachers—some of which include in-home lessons, group lessons, and online piano lessons.
Remote music learning has come a long way in the past year. With more and more people spending time at home, the demand for online piano lessons has increased. Piano teachers have adapted to meet this rising demand for online piano lessons, developing and refining new ways to deliver the joy of learning a musical instrument to students through their screens. While this new virtual marketplace has given potential students more options when learning an instrument, the dizzying array of teachers available means that it can be very difficult for a beginner to know what they are looking for. At Forbes Music, we work closely with our teaching partners to pair each student with the online piano teacher that best suits their personal music learning needs.
Here is a brief overview of what potential students should expect, as well as a guide to help you decide if online piano lessons are right for you.
Online Piano Lessons Vs. In-Home:
The best online piano lessons are the ones that most accurately address a student's piano learning needs—What music style is the student interested in learning? How much time do they plan on practicing during the week? What are their goals and ambitions in learning the instrument? In order to most effectively address these needs, online piano teachers use a process of personalized feedback, reinforcing practice and playing habits that will most effectively help the student succeed. A key benefit of online piano lessons, as opposed to in-home piano lessons, is that the student is not limited to a piano teacher near-by. Sometimes, the ideal piano teacher is one a bit further away. This issue of location is by-passed through the online piano lesson.
Can I Teach Myself Piano Online?
When looking for online lessons, many students may stumble upon the world of YouTube tutorials. A world of unorganized content at one's fingertips may seem enticing, but part of the issue with teaching yourself piano online is the lack of personalized feedback. As a beginner, it can be tough to know what is necessary to accomplish one's piano goals. A private piano teacher will work closely with a student to assess their goals and give them personalized lesson content that will help them achieve their goals in the most efficient manner possible. No wasted effort means a smoother learning experience; less frustration and more fun.
Meet a Few Of Our Teachers
Piano, Flute, Voice, Music Theory, Improvisation, General Music
Piano, Keyboard, Music Theory, General Music
Piano, Flute, Music Theory, General Music
Guitar, Piano, Songwriting, Music Theory, General Music
Voice, Piano, Music Theory, General Music
Piano, Guitar, Improvisation, Music Theory, General Music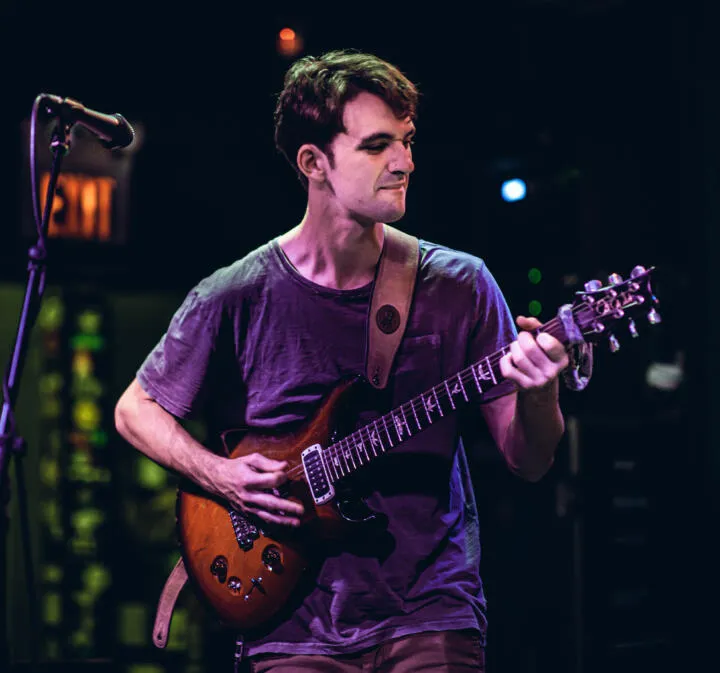 Guitar, Violin, Bass, Piano, Ukulele, Music Theory, Improvisation
Voice, Piano, Keyboard, General Music
Voice, Piano, Songwriting, Musical Theatre, Composition
How Skill and Age Relate to Piano lessons:
Piano lessons can benefit people of all ages and skill levels. At the beginning of the learning process, a private teacher will assess the student's skill level and create a lesson plan that fits their interests. In beginner piano lessons, the teacher may focus on the fundamentals of music and piano, such as scales, exercises, and learning songs. Learning songs that one loves is a great way to learn about basic music theory—such as key and time signatures, rhythm and melody—all while developing repertoire. Few things are as fun as performing newly-learned songs for other people! Learning songs can be a great way for a beginner piano student to get the most out of their piano lessons.
Piano lessons for kids will include many aspects of piano lessons for beginners (depending on the child's skill level, of course), but the content will be personalized for a younger learner. This will mean that their lesson plans will differ significantly in terms of repertoire and method compared to piano lessons for adults.
What age should a child start piano lessons?
Studies have shown that piano lessons for kids provide many benefits to young children throughout adulthood. Because of this, a child that begins piano lessons at any age after three-years-old will begin to reap the benefits having studied piano in their youth. Strong scientific evidence correlates general music and piano lessons in childhood with strong verbal skills, higher self-esteem, higher test scores, and better overall school and work performance later in life.
Are piano lessons for adults effective?
While this is the case, no age is too late to begin to learn the piano. At Forbes Music, we believe that any time is the right time to pursue piano lessons. We provide piano lessons for beginners, kids, and adults of all skill levels. Anyone can learn the songs they love at any age in life. Additionally, music has proven to delay cognitive decline and has a positive impact on working memory capacity and processing speed. Adults can benefit tremendously from taking piano lessons, beyond simply learning songs. Regardless of the motivation, we will work to find a piano lesson plan that works for your schedule and skill level.
"I love having the freedom and flexibility to design my schedule, create lesson plans, and work with my fanatic students that Forbes has connected me with."
"We truly enjoyed the experience with your company. They really had a great bond over zoom. The time was full of encouragement and gave Joel the desire to practice on his own."
My grandson is loving his lessons. I was skeptical with virtual at first, but it seems to be working. Phillip is a great teacher and very patient with such a young student. Thanks for everything!
"My kids love the lessons. Great teachers and flexibility in schedule. Overall, very dependable service."
"The entire experience was great! We loved your professionalism, promptness, clear rules, kind and human touch, and Garet was so very nice, polite, competent and truly amazing motivating the kids and moving them forward."
"As a teacher, it is a wonderful experience to work with Forbes. Their professionalism handling all the logistics and administrative work allows a teacher the peace of mind to be able to purely focus on our students and the wonderful gift of music making."
"My daughter has been taking voice lessons form Forbes and her singing has become more controlled and dynamic, and yet the natural quality of her lovely voice has not been obscured, rather, it's been enhanced under the sensitive tutelage of Vickie."
"We had a great experience with Forbes music and I'll be happy to recommend you to anyone. We enjoyed lessons and all of your teachers were top notch. When a teacher couldn't commute to us any longer or moved on from Forbes, you guys made sure that a high quality replacement was available for us in short order. I appreciate everything and so does my son."
"We have been taking piano lessons with Forbes for years and have been extremely happy. Our teacher is like family. We have recommended Forbes to many friends and family."
"Both of my children have been taking piano lessons and we couldn't be happier with their progress. My kids are both really proud of what they've been able to accomplish and so am I."
Cost and Time Investment for Online Piano Lessons:
In-home and online piano lessons are an investment. How much is a piano? Pianos and keyboard instruments come in a wide variety, ranging from a few hundred dollars for a good used acoustic piano, to tens of thousands of dollars for a new, high quality grand piano. That being said, the best piano is the piano that fits a student's skill level and budget. It is possible to find used pianos in good condition for a few hundred dollars or used keyboards for under a hundred dollars. It is not necessary to spend a small fortune on one's first piano, and it is always possible to upgrade as skill level and commitment level increase.
Ultimately, the cost of piano lessons may differ depending on your area, the length and frequency of lessons, and potentially a long term scheduling plan, but it is possible to find an affordable teacher that accommodates your needs, budget, and skill level.
Overall, how much do piano lessons cost? You can expect to make an investment in a used piano in good condition, the piano lessons themselves, and a time investment into the lessons as well as practice time. While piano lessons are an investment in cost and time, they are worth it if you find the piano and piano teacher that will best work for you.
Highest Client Happiness Index™
Forbes Music has the highest client Happiness Index™ in the industry and gives you the confidence to know you're in good hands. With proven results and satisfaction, Forbes Music Company provides an unmatched private lessons experience either in-home or online, with the best teachers anywhere. We go beyond the notes to teach some of life's greatest lessons.
Ready to Start Learning Music?