Violin Music Lessons In-Home & Online
The quintessential orchestral instrument, violin has a special place in music history with its vast repertoire, versatility, beautiful sound, and powerful melodic qualities. Violin is often the first instrument many orchestra students learn early in elementary school. Today, music students have many options for learning violin,including in-home lessons, group lessons, and online violin lessons.
Helpful Insights 
Benefits of Learning Violin
Learning to play the violin offers a wide array of benefits, encompassing personal, cognitive, and emotional aspects of your life. 
Playing the violin stimulates brain function, enhancing cognitive skills such as memory, problem-solving, and concentration.

Learning the violin requires patience and discipline. Regular practice cultivates these essential life skills.

Violin playing improves fine motor skills, finger agility, and hand-eye coordination.

Violinists have the chance to perform in recitals, concerts, and other events, showcasing their talent and hard work.

Research shows that music education, including violin lessons, can improve academic performance, particularly in mathematics and language skills.

Learning the violin promotes personal growth, emotional expression, and a sense of achievement.
Helpful Insights
In-home music lessons offer a convenient and personalized learning experience right in the comfort of your own home. With in-home music lessons, students can avoid the hassle of commuting and enjoy the convenience of having a qualified music teacher come to them. Whether you're a beginner or an advanced musician, in-home lessons allow for individualized instruction tailored to your specific needs and goals. Plus, learning in a familiar environment can foster a sense of comfort and confidence, allowing students to fully immerse themselves in the joy of music.
Helpful Insights
When it comes to online violin lessons, finding the best fit means selecting a program that aligns with your specific violin learning needs. Whether you're interested in classical, bluegrass, film score, jazz, or contemporary music, online violin teachers excel in tailoring their instruction to match your preferred music style. Online music teachers offer convenience and flexibility, allowing students to schedule lessons that fit their busy lifestyles. Unlike in-home lessons, where your options may be limited to nearby teachers, online violin lessons offer the advantage of choosing from a wider pool of instructors, allowing you to find your ideal teacher, even if they are located further away.
Helpful Insights
Benefits of Learning Violin with Music Lessons
Can I learn to play violin by myself online? 
When searching for online violin lessons, you might come across a plethora of YouTube tutorials and other self-help resources. While these can seem tempting, one of the challenges of self-teaching the violin online is the lack of personalized feedback. As a beginner, it can be challenging to determine what's important for reaching your violin-playing goals. Private violin teachers work closely with students to understand their objectives and create personalized lesson plans that ensure efficient progress. This tailored approach minimizes wasted effort, resulting in a smoother learning experience with less frustration and more productive practice.
Helpful Insights
Meet a Few Of Our Teachers
Piano, Voice, Musical Theatre, Songwriting, Music Theory
Guitar, Piano, Drums, Clarinet, Trombone, Music Theory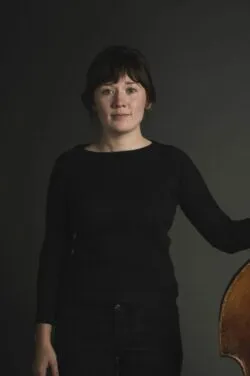 Bass, Cello, Violin, Viola, Guitar, Piano, Songwriting, Improvisation, Music Theory, General Music
Piano, Flute, Voice, Music Theory, Improvisation, General Music
Bass, Guitar, Piano, Music Theory, General Music
Violin, VIola, Cello, Piano, Voice
Drums, Percussion, Woodwinds, Brass, Music Theory, Adjudication
Piano, Improvisation, Music Theory, General Music
Saxophone, Oboe, Flute, Clarinet, Music Theory
Bass, Guitar, Piano, Ukulele, Music Theory
Everyone Can Learn to Play Violin
How difficult is it to play the violin?  What age should a child start violin lessons?
Violin lessons are a valuable pursuit for individuals of all ages and abilities. The difficulty of learning the violin depends on personal goals and prior experience, but private instructors are skilled at tailoring lessons to match individual interests and proficiency levels. For beginners, the focus often revolves around grasping the fundamental aspects of music and violin playing. This includes developing essential techniques, like proper bowing and finger placement, and learning to produce basic melodies. Playing beloved songs can be an enjoyable and effective method of absorbing fundamental music theory, encompassing key signatures, time signatures, rhythm, and melody. These engaging experiences, including the joy of performing newly-learned pieces for others, significantly enhance the value of violin lessons for beginners.
Violin Lessons for Kids
The ideal age for a child to start learning the violin can vary based on individual factors, including the child's maturity, physical development, and interest in music. Generally, children can begin violin lessons as early as three to five years old.
Violin lessons tailored for children offer a wealth of advantages, contributing to their confidence, enhancing fine motor skills, and fostering comprehensive brain development. These cumulative benefits directly impact their communication abilities, problem-solving aptitude, and, consequently, elevate their academic performance and test scores. 
Violin Lessons for Adults
Developing the skills to play the violin can begin at any age. It is never too late to start learning violin, and a great violin teacher helps to accelerate the learning process. At Forbes Music, we believe that any time is the right time to begin violin lessons. Violin lessons for adults have significant benefits to overall health and well being. Studies have proven music to delay cognitive decline as well as providing a positive impact on working memory capacity and processing speed. Adult violin students will find violin lessons to be a great help to their mental health and overall confidence. Regardless of age or motivation, at Forbes Music, we work to find a violin lesson plan that aligns with your schedule and skill level.
Helpful Insights
"I couldn't be happier to be part of such an incredible organization. The support from the office administration gives teachers all the assistance and tools they need to succeed!"
"We have been taking piano lessons with Forbes for years and have been extremely happy. Our teacher is like family. We have recommended Forbes to many friends and family."
"I was so impressed and delighted by the experience I had! I was thoroughly impressed by the experience and would highly recommend to anyone looking for music lessons. I grew in confidence in just three lessons!
"My daughter has been taking voice lessons form Forbes and her singing has become more controlled and dynamic, and yet the natural quality of her lovely voice has not been obscured, rather, it's been enhanced under the sensitive tutelage of Vickie."
"Both of my children have been taking piano lessons and we couldn't be happier with their progress. My kids are both really proud of what they've been able to accomplish and so am I."
"We truly enjoyed the experience with your company. They really had a great bond over zoom. The time was full of encouragement and gave Joel the desire to practice on his own."
"I have been a teacher with Forbes Music for years. The company is fantastic. Forbes gives teachers scheduling freedom and they do the hard part of finding students so I can maintain a consistent paycheck. Anybody looking to teach should consider working through this company."
"Forbes Music Company is very professional. They make lessons very easy, and the teachers and staff are very kind and helpful. Very highly recommended!"
"Nica has been a wonderful, talented teacher.  She is always willing and able to answer my questions and I have learned a lot from her. She is a delightful person as well and we have fun during our sessions."
"We've had a wonderful experience and would recommend Forbes to others who are looking for a reliable and professional music lesson company, with great instructors."
Cost And Time Investment for Violin Lessons
How long will it take me to learn violin? How much will I need to practice? 
The cost of learning an instrument like the violin can vary significantly depending on the types of lessons and equipment involved. Learning violin, and any instrument, takes time, consistency, and requires patience. When asking how long to learn violin, consider how much time can be dedicated to perfecting the craft. While violin lessons are an investment in cost and time, they are worth it when you find the violin and violin teacher that will work best for you.
How much is a violin?
The cost of a violin depends on whether it's rented or purchased, the brand, origin, and craftsmanship. Student models are far less expensive than professional models. Renting a violin may be the perfect solution for a beginner violin student. As a general rule of thumb, renting a violin will likely cost anywhere from $15 to $50 per month. For a beginner or child, purchasing a student violin model should cost less than $500. Violins in the intermediate range can cost from $500 up to $2000. Advanced violinists are likely to spend over $2000, and professional models will likely range from several thousand to tens of thousands. 
How much do violin lessons cost? The cost of violin lessons may differ depending on your area, the length and frequency of lessons, and potentially a long term scheduling plan. There are many ways to find an affordable teacher that accommodates your needs, budget, and skill level.
Helpful Insights 
Highest Client Happiness Index™
Forbes Music has the highest client Happiness Index™ in the industry and gives you the confidence to know you're in good hands. With proven results and satisfaction, Forbes Music Company provides an unmatched private lessons experience either in-home or online, with the best teachers anywhere. We go beyond the notes to teach some of life's greatest lessons.
Ready to Start Learning Music?